Progress Breakdown:
Writing Word Counts:
Weekly Total WC – 9,433 (3,279/52% increase)
Editing Word Counts:
Weekly Total WC – 3,659
Week Recap:
My first solid week of the silent launch didn't go as well as I hoped. With just over $60 sunk into advertising, I managed to garner 458 KU page reads, and zero sales.
I've launched a free offer for Saturday and Sunday. I'll still run some ads to get the ball rolling.
As of this moment when I'm writing this, the novel is ranked #57 under the Science Fiction & Fantasy > Fantasy > New Adult & College category. If I don't get into the top 20 of the category by Sunday night, I'll extend the sale for another day.
My hope is the free books will help increase my reviews and maybe even start some word of mouth.
At the end of the day, I'm still doing better than the worst case I'd planned for. I think the best thing I did going into this launch, was keep my expectations realistic. That way I can adjust and grow accordingly.
This is my first novel ever, and the first of a series. I didn't expect any traction until I release book three. Maybe some slight interest with book two. I went into this with a 90 day plan and it will be April or May before I can look at the series and make any real judgement on the performance.
I've got book two up for preorder. If I'm lucky someone will love the first and buy it, but honestly I'm not expecting it. I just wanted it there so potential readers could see that there's more books coming down the pipeline soon.
I'll release book three very close to book two, but aside from a 48 preorder to make sure it goes live correctly. I'll not run a preorder for book three.
My goal with book three is to launch to a mailing list of 100 people, and see at least 50 of them buy it on day 1 or 2 of the release.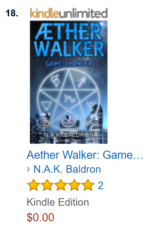 The free went well. I manged to hit #18 under my category, and shipped 79 free units. My hope is at least 2 of those will result in reviews. I had an ARC team of 21 members, but thus far I've only received 2 reviews. Not at all what I'd hoped for. During the free push I went ahead and told my family/friends about the book for the first time and gave them the chance to get the book. I didn't want them buying it, because none of them are my ideal reader.
I'v lined up a $0.99 promotion for this week. I'll have newsletters going out for 7 days straight. My hope is that by gaining a little traction before this push, Amazon will see it as a positive up tick and maybe take note.
Goals From This Week: (Score: 3.5/5)
1. Drive to the Library Monday – Friday to work.
2. Shut off all electronics before midnight.
3. Read two nonfiction books.
4. Publish next weeks Week Recap.
5. Spend at least 1 hour per day playing with my daughter.
Still can't seem to make myself go to bed before midnight.
Goals For Next Week:
1. Write at least 10,847 words, a 15% increase from last week.
2. Only check my sales rank twice a day.
3. Make a blog post in addition to my week recap.
4. Find 10 new ARC readers for Aether Walker Queen's Gambit
5. Make a Kboards post of my marketing results.
─ ─ ─
Nicholi A. K. Baldron
@NAKBaldron on twitter