Progress Breakdown:
Writing Weekly Word Count – 3,870 (4,625/54% Decrease)
Editing Weekly Word Count – 54,161 (39,342/366% Increase)
Week Recap:
I spent the whole week on my new natural schedule, where I go to bed around 04:00 and wake up between 12:00-13:00. I decided the only way it would be worth the trade-off, is if I saw at least a 30% increase over my past performance. Given the results I'd say I did well over that.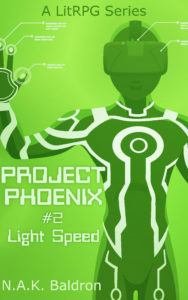 However, most of my productivity was in editing. This week I'll be writing and editing the 2nd installment in Project Phoenix #2. Therefor I'm going to aim to write 10,000 plus words this week. If I manage to do that I'll count it as a 30% increase for sure. I'm aiming for Project Phoenix #2, to come in around 9,000-9,500 words. Which means I'll need to edit 18,000 plus words this week, after writing them.
I'm lucky that my editor is working alongside me, and editing as I go. This speeds up the process drastically and also works as an external pressure to keep me focused and productive.
So far, Project Phoenix #1: Jacked In has done well. As of this post I still don't have any reviews, but the sells are doing well. I've sold 22 copies, and seen 2,383 page reads. Amazon counts the book as 40 pages, so if everyone is reading the entire book, those page reads work out to about 60 downloads and read through.
Given those read through, I'm surprised I've seen zero reviews and email sign ups. I'm going to double my efforts this week on garnering reviews, and especially email sign ups. Aether Walker: Game Changer, has died off, but I've seen email sign ups from it.
I'm hoping that when I release Project Phoenix #2 on Friday I'll see a jump in sales in #1 and also more overall interest in the series. If all goes well, there will be a continuous growth in the series as a whole, as I continue to publish new installments weekly.
Goals From This Week: (Score: 2.5/3)
1. Finish WIP
2. Finish Editing previous WIP
3. Read 4 novels, 1,200+ pages.
I didn't read nearly as much as I wanted, but I did editing pass on a novel and two passes on Project Phoenix #1: Jacked In. Editing and reading are almost the same thing. Which meant that after an eight-hour plus shift of editing my eyes hurt and I didn't feel like reading.
Goals For Next Week:
1. Write, Edit, and Publish Project Phoenix #2
2. Read 3 novels, 900+ pages.
3. Spend 1 hour a day growing my mailing list.
What I Read This Week:

─ ─ ─
Nicholi A. K. Baldron
@NAKBaldron on twitter