Progress Breakdown:
Writing Word Counts:
Weekly Total WC – 8,811 (1809/26% Increase)
Editing Word Counts:
Weekly Total WC – 3,073
Week Recap:
2/5/17 – Writing went well. I've started my new series. Having two different stories to write between helps keep the creativity flowing. Since I'm between a plotter and a discovery writer, it's easier for me to work on different plot issues.
The new series should be easier, because I'm reworking a few short stories I wrote and turning it into a serialized series. I'm planning each book to be between 15,000 and 20,000 words. I won't put the first out until I have the first serialized arch done. I figure a 5 or 6 book series would be ideal.
2/6/17 – Spent the day world building.
2/7/17 – Great fucking day of writing. Hit the half way point of the story and picked out the graphics for the cover. I just sent it over to my editor. I'm going to have this edited as I go, so I might be able to put a story out every week, while still working on the novel. I'm going to finish up short story tomorrow, and if I have time I'll knock out some words on the novel.
I started at 10:30 and didn't stop until I ate dinner at 18:45. Despite all the world building I did, and this being an expansion of the universe I've already written a story in, I spent hours world building today too. I've decided to make it a hard SciFi, so I'm actually doing math every 500 or so words. Luckily I went ahead and made formulas inside excel so I should be able to plug and play in the future.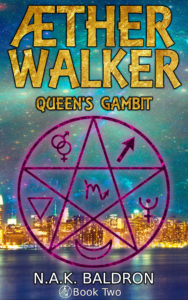 2/12/17 – The short story is looking good. I've got my editor looking at it and should have it back this week. I've got to focus on Aether Walker Queen's Gambit this week and put a few polishing touches on it, while writing the second short story. I need to have the best writing week of my life, which means staying focused. I'm going to make my goals the same as last week. I'm also going to cut my goals down to 3 a week since I seem to be stuck around that.
Goals From This Week: (Score: 3/5)
1. Wake up at 9 AM.
2. Go to bed before 2 AM.
3. Write from 10:30 AM to 2:30 PM
4. Write on this Week Recap daily. Log my daily mood and success.
5. Find 10 new ARC readers for Aether Walker Queen's Gambit
Goals For Next Week:
1. Wake up at 9 AM.
2. Go to bed before 2 AM.
3. Write from 10:30 AM to 2:30 PM
─ ─ ─
Nicholi A. K. Baldron
@NAKBaldron on twitter