Week Recap:
I didn't hit my writing goal for the week, but I started another pass on Aether Walker: Game Changer. I wrote 5,147 words towards the 2nd novel, and it's now at 26,101 words. This new editing pass is going well, and will make the novel more enjoyable for my readers. Which is why I'm putting it first before continuing the 2nd novel. I want my readers to fall in love with my characters, and the only way that will happen is if the words on the page are clear enough to let the character's voice's shine through.
With the end of the year coming up, I've started to think about how far I've come this year, and how far I want to go next year. I've never been a big follower of new years resolutions, because when I want to make a change in my life I don't wait. I implement the change immediately and try to change my habits. If there is one thing I've learned this year, it's that putting off what can be done today, until tomorrow will always lead to failure, or at the very least, under performance.
I've not been perfect this year, and I've come up short on many of my goals, but I think that's part of the reason to have goals. By pushing myself every week to better than I was the week before, I'm improving. When I look at where I was six months ago, I've come so far. I've easily doubled my productivity and am now at the point that publishing my novel is not a dream, but an executable plan.
The only reason I've held off on publishing Aether Walker: Game Changer, is to publish the first three in my series close together. This was a calculated marketing decision, and time will tell if it was the right move. My instinct tells me that I'll do better publishing three novels close together, rather than spreading them out. I'm not at the production level where I can crank out a 1st draft monthly, much less edit and publish it. However, I've gone from a 6 month production schedule to about 2 months. By the middle of next year I expect to be up to a novel a month. My time is split between the novel, this blog, work to make money, and family. Once money from the novels start to roll in I'll be able to cut the work part of my time. I don't want to give up the blog, because I find it helpful to keep my accountable, but also I feel it's my duty to give back to the Indie Community that's given so much to me. I'd not be here today if it wasn't for the abundance of guidance and information other authors shared.
I'm going to link at the bottom to several resources I used to grow over the past two years. I hope it helps someone else, as much as it's helped me.
Goals From This Week: (Score: 2/5)
1. Write Monday through Friday, 2,000+ words a day. Write from Noon to 16:30.
This was half successful. I've had to put it on hold for a short period, while I do one last editing pass on Aether Walker: Game Changer.
2. Write and publish my Writing Logs.
I did this for every day I wrote!
3. Finish 4 Novels.
I didn't do this at all. I think I only read one novel this week.
4. Start Wednesday Writing Advice blog post.
Nope. I'm moving this to next week. I'll try to get a few done, so I can stay ahead of schedule.
5. Go to bed by midnight.
This is laughable, because it only happened once.
Goals For Next Week:
1. Utilize my Daily Agenda, where I write out my day every morning. I'd done this in the past, but stopped for some reason, and I want to get back into the groove.
2. Write the novella I'm going to give away for free with Aether Walker: Game Changer, or at least 2,000 words a day.
3. Edit 11,000+ words a day of the novel, so I finish this pass before 12/23/16.
4. Finalize graphics for the book launch.
5. Setup promotions for the book launch.
Resource Links:
Brandon Sanderson teaches a creative writing course at BYU and they've been kind enough to film his lectures and upload them to YouTube. These are the 2013 & 2014 lectures. If there is no year marker, it's from 2014. I suggest starting with Lecture 1 and moving forward, especially if you're just getting started as an author. This helped me when I was working as a Salesman and trying to grow as an author as a way out.
https://www.youtube.com/user/WriteAboutDragons/playlists
Science Fiction & Fantasy Marketing Podcast, has been the best learning tool for me over the past six months. As their title suggests they focus on how to market SciFi & Fantasy, but almost all their episodes also dive into the craft of writing. Their episodes are well titled, and diverse. I've linked to their site, and also their YouTube channel. They live stream every Tuesday at 9pm Eastern Time/6pm Pacific Time, on YouTube.
http://www.marketingsff.com/
https://www.youtube.com/channel/UCkgP6WIFsg3vWga2XVs619w/videos
If you're reading this I'm sure you've already heard about Chris Fox and his super human abilities to write 5,000 Words Per Hour. If you've not checked out his site, books, and videos you should. His books are no fluff straight to the point reads. Their point is not to make you feel good, but to get you moving forward and improve as an author. They've helped me, and I eagerly await every book and video he releases.
http://www.chrisfoxwrites.com/
https://www.youtube.com/channel/UCu6RYg6_-pTQxLVq3Fv6lYg/videos
The next set of links are all about productivity and writing.
I use Dragon Dictation software to help write faster and prevent me from editing as I write. I've started switching it up where sometimes I use it and sometimes I manually type it out. I find that switching it up like that keeps me fresh. It did take nearly a full month to get fluent with Dragon, but it's 100% worth the learning/training curve. I use Dragon 13 premium, I think the newest version is 15. However, 13 home is on sale for $35.97 on Amazon, link below. The Premium is also on sale for $64.34. I got it so I could import anything I record on the go. (This is the main difference as I understand it.)
https://www.amazon.com/Dragon-NaturallySpeaking-Home-13-0-English/dp/B00LX4BZAQ/ref=sr_1_1?ie=UTF8&qid=1482102512&sr=8-1&keywords=dragon+naturally+speaking
Scrivener had been the best word processor I've ever used. They offer a 30 day free trial, and it only counts a day as a day you use it. So if you only write on weekends the trial could last you several months. At least give it a go and see if it works for you. The number one reason I switched was the ability to break my novel down into scenes, and not have to look at an entire word document while writing. However, now I use it for so much more, and I doubt that I use half of its capability. Also, if you plan to self publish, the software will help format your novel to export it into .mobi and .epub formats. Also note, I use the windows version. If you have a Mac you'll get even more functions as I understand it.
https://www.literatureandlatte.com/scrivener.php
I use Write Monkey for every blog post you read here. I like how I'm able to keep it full screened on my side window. This is a full on word processor, but I use it mostly for the full screen function, and the typewriter sound it makes as I type. I find that the sound helps me focus. I'll even write my novel in it, when I'm not using Dragon.
http://writemonkey.com/
This is only for the blog, but I use GIMP to make and edit all the photos you see on this blog. It's basically Photoshop but free. Now I'm not expert of Photoshop, so if you know how to use it you should stick with it, but GIMP has many if not all, the same functionality. The best part though, is GIMP is free.
https://www.gimp.org/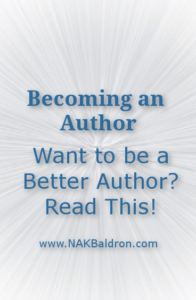 ─ ─ ─
Nicholi A. K. Baldron
@NAKBaldron on twitter