Progress Breakdown:
Writing Word Count – 30,973 (1,106 Daily Word Count)
Editing Word Count – 75,151 (2,684 Daily Word Count)
Published Titles:
Project Phoenix #1: Jacked In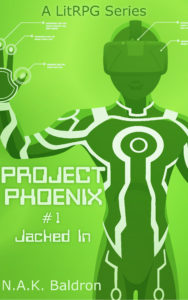 Thoughts:
February was one of, if not the most productive months I've ever had. However, looking back on a month of data, there's plently of room for improvement. If you've been following the blog you'll know I set weekly goals and keep a close eye on my performance. Taking a step back to look at a larger performance record has allowed me to see trends I can't see on a weekly level. As such, this will become a new habit for me. At the first of the month, I'll stop and look at where I'm at, and where I've come from.
One major change came with publishing Project Phoenix #1. It's the first part of a serialized novel I'm writing, and so far has been well received by the LitRPG community. I've found the Facebook groups I've joined to be welcoming and full of excited people like myself. I'm beyond thrilled to be apart of a new and upcoming genre. There's so much potential in the genre, and I believe that LitRPG will change the SciFi genre as a whole. If Amazon would create a subgenre under SciFi for LitRPG, it would help greatly with exposure and make it easier for the readers to find what they're looking for.
I publishing my first novel in January, so it hasn't even been two months. With that said, I'm in the red when it comes to earnings vs expenses on editing, cover, website, etc… I'm working hard to reach new readers and write more material. I figure once I have the third novel out in the Aether Walker Series, and second bundle for Project Phoenix, I should earn enough to pay all my writing expenses and start to earn an income.
Earning Breakdown:
I'm using an add-on, BookReport to get my figures. Expected page read earnings are calculated in, but might be off.
| | | |
| --- | --- | --- |
| USD | Pages | Sales |
| $41.29 | 4,731 | 49 |
Earnings After Expenses
| | |
| --- | --- |
| Earnings | +$41.29 |
| Project Phoenix Cover | -$29 |
| Project Phoenix Edits | -$160 |
| Aether Walker Edits | -$1,100 |
| Office Supplies | -$36.19 |
| Total | -$1,283.90 |
I'm doing the covers for Project Phoenix myself. At least for the time being. Once I break even, I'll spend the money to have new ones made. I'm also getting a great deal on the edits, which helps keep the costs down.
Works In Progress:
Project Phoenix #2, #3, #4, #5, and #1-#5 Bundle.
Aether Walker Queen's Gambit
Books Read:
─ ─ ─
Nicholi A. K. Baldron
@NAKBaldron on twitter